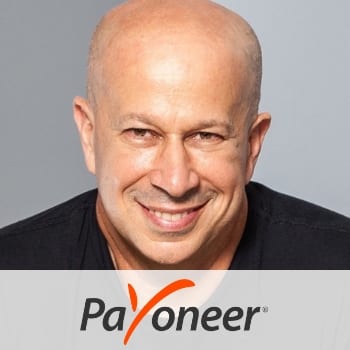 Yuval Tal
Founder & President @ Payoneer
Payoneer is a provider of money transfer and payment services and one of the fastest growing fintech companies. It has raised $270m to date. Yuval is a serial entrepreneur and angel investor. He served in the IDF's elite Airborne Rescue And Evacuation Unit (Unit 669) and studied mechanical and biomedical engineering at Tel Aviv University.
Yuval began his professional career at Radware (NASDAQ:RDWR) in the position of VP business development. Later on, Yuval co-founded E4X, an early Internet payment solutions company. Under his management, E4X grossed over $500M in the first five years. The firm rebranded to BorderFree in 2013 and was acquired by Pitney Bowes for $395 million in 2015.
Yuval established Payoneer in 2005, providing companies and business with secure online payout solutions. Payoneer offers a simple and effective online payment solution that has successfully secured and delivered millions of online payments to people around the world. The Payoneer model includes a prepaid MasterCard® card that enables thousands of online businesses to send and receive online payments. With 3 million users and 200 partners including Amazon, Airbnb, Fiverr and Upwork, Payneer is one of the world's leading FinTech companies, and has won multiple awards.